Zoned Comfort Control
The

only

place in the home where the temperature
matches the thermostat is

at the thermostat.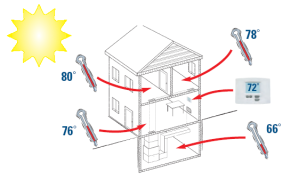 Do you turn all the lights on in your entire home
with one light switch?
Then why try to control the temperature in every room,
on every level with only one thermostat?!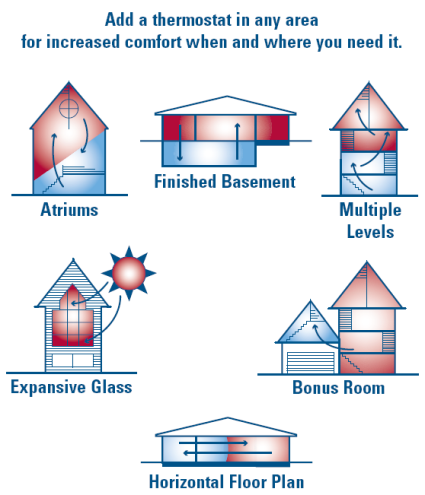 Zoned Comfort Controls Provides
Direct Warm & Cool air when and where you want it

Eliminate hot & cold spots
Energy Savings
Don't waste money heating & cooling air in areas not being used

Stop over-heating & over-cooling
Ultimate Convenience
Reduced Investment
zone a single HVAC system vs. installing two separate systems

"There is no way I can think of to properly control the conditioned air in a three-story home with just one thermostat.

It is a f\act of physics that warm air will rise and cold air will settle

.
You might consider a zoned system. You can have as many zones of heating an cooling as you want. Then each zone, say a second thermostat in the upstairs hall, would fire the furnace when heat is needed.
Can you do this yourself? No, the ductwork will have to be altered. While you're at it, have the old ducts cleaned and sealed at each joint and seam. If a furnace is located in the basement of a two-story house, it will not efficiently cool the second story in a warm climate. Supplemental cooling would need to be installed if you do not have zoning."

"For more flexibility, a multi-zone programmable thermostat can vary temperatures in different areas of a building at different times to suit the needs of the occupants."

"You can save as much as 10% a year on your heating and cooling bills by simply turning your thermostat back 10% to 15% for 8 hours. You can do this automatically without sacrificing comfort by installing an automatic setback or programmable thermostat."
"Zone heating and cooling is also used in some homes. This allows you to

reduce the heating and cooling to an unused part of the home, and can substantially reduce your energy bills

. Depending on your home's design and your heating and cooling system, it may be possible to retrofit your home to zone heating and cooling. Check with a local heating and cooling contractor to see if this option is practical for your home.