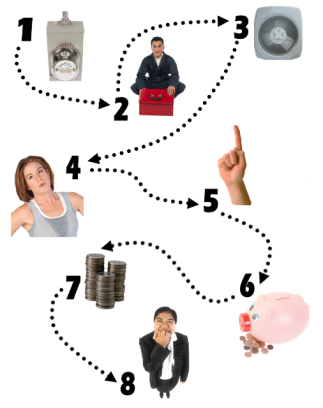 Slow down your electric meter. Empirical utility research proves that air conditioning maintenance will Cut Utility Expenses.
Small problems left untended will become big problems later. With maintenance, you Prevent Breakdowns.
Any mechanical system lasts longer with good maintenance. Your comfort system is a mechanical system. Service it to Extend Equipment Life.
Is your home comfortable on the hottest days or do you sweat it out? Utility research found that air conditioning maintenance Restores Lost Capacity.
Airlines let frequent flyers board the plane first. Similarly, our service agreement customers Receive Priority Service.
When something does break, service agreement customers pay less. With our service agreement, you receive a 20% Repair Discount.

The cost of seasonal precision tune-ups is about as much and in some cases, more, than the cost of a service agreement. Factor in the discount on any repairs and you actually SAVE with a service agreement.

When breakdowns occur at inconvenient times, don't worry about high overtime costs. Service agreement customers Never Pay Overtime.